Golf coaching is all about you and what you want to get out of your game. We pride ourselves on being good listeners and aim to provide the best possible professional advice, whilst ensuring each lesson is tailored and enjoyable for the golfer.
Why Coaching?
We're passionate about helping you play better golf.
Every golfer enjoys the game more when they're hitting good shots and playing well. This is our mission for you.
Think back to your last few rounds and try to pinpoint an area that cost you shots…
Maybe, you had too many three-putts as a result of poor distance control? Or did you miss too many fairways to the right meaning you had to chip out sideways? It could be that you play well in practice rounds with your friends but struggle to replicate that in competitions?
Through our experiences in the game and our PGA education, we appreciate that every golfer is different. That's why we offer a range of lessons and packages to suit everyone.
Group lessons available for all ages and abilities, please for more details please message me
Lessons will cover:
Golf Fundamentals
Swing Basics
Short Game
Long Game
Course Management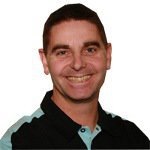 Miles Harding - PGA Teaching Professional
I qualified in 1988 after being the assistant at Sene Valley and later at Rowlands Castle where I was a junior member and still regularly lose a fiver on a Friday afternoon. The AAT is a classification from the PGA, it means I am a qualified advanced professional who has a Trainee doing their 4-year PGA Degree course. All my family played golf. The biggest influence on my golf was my father, who has been an assistant at Sunningdale when he was younger. Currently I live in Horndean, half an hour away from the club with my wife Sarah and nearly 4-year-old daughter Polly. My main interest away from the golf may surprise you, but if you have known me long enough you would have seen the black eyes and cut lips as I was an active amateur boxer from 1992-1999 with the Leigh Park Amateur boxing club. After being stopped in a contest by an 18 year (I was 15 years older!) my coach at the time said we both need to retire, and I then took over the coaching after qualifying as an ABA coach.
---